lychee gummies
lychee gummies is a hybrid marijuana strain made by crossing Pink Rozay with White Runtz. The effects of Lychee are uplifting. Consumers who have smoked this strain say it provides a balanced and enjoyable head high. The flavor and aroma will remind you of lychee, with notes of fruity sweet citrus and berries. Lychee flowers into soft nugs that are dark purple and green. This strain pairs well with daytime activities or a wake and bake session. Lychee was originally bred by Lemonnade.
THC percentage amounts are average, individual items may vary.
WARNING: This product can expose you to marijuana smoke and myrcene, which are known to the State of California to cause cancer. For more information, go to www.P65Warnings.ca.gov
Lychee gummies Strain Review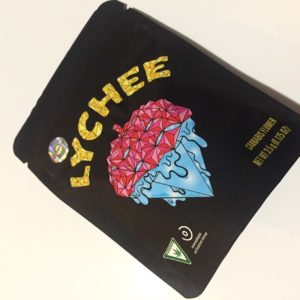 The dark nuggs were soft to the touch with slight resistance. The smell was gassy and strong I had no issue catching these aromas. Even at a foot from my face the stank of the cannabis just slaps you silly. 
The smoke 
 is a sign of the times you have the diesel gassy flavor that is very popular in the market. There is also the sense of berries and sweet fruity 
 terpenes that is like a luxury when done well and here it was. I even think theres is like a champagne/sparkling wine playing on these flavors. I truly enjoyed this cultivar especially the strong balanced high that sets in quickly.